Dental Assisting Program in Crystal Lake & Libertyville, Illinois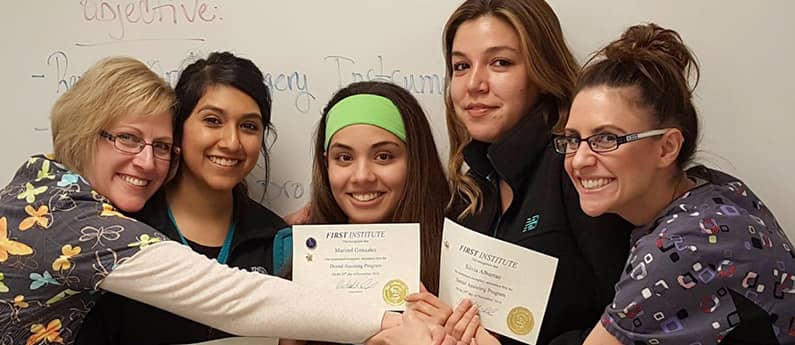 Dental Assisting Program
(50 Weeks of Training)*
Next Program Start Dates
Feb 5th

: Dental Assisting Program - Libertyville
A healthy smile is one of the number one indicators of wellness. As a dental assistant, you work closely with dentists to help people achieve and maintain a great smile, and help to ensure the office runs smoothly.
If you're interested in the dental field and ready to get established in a rewarding professional career (without spending years in school), you could have a bright future in Dental Assisting.
Become Qualified in Dental Assisting
The Dental Assisting Program at First Institute, offered at both our Crystal Lake and Libertyville campuses, provides the hands-on training, practical clinic experience and dedicated industry support it takes to launch a rewarding dental career in less than 1 year.
At First Institute, training is active and led by experienced dental professionals in a fully-functioning dental laboratory. Our instructors know what you need to succeed because they work in the field, and they are invested in helping you get there.
Skills you will learn include:
Administrative Procedures
Dental records, ethics and HIPAA compliance
Oral Health and Endodontics
Lab procedures – primary & secondary impressions, fixed prosthetics and dental implants
Anatomy, Morphology and Dental Sciences
Dental Specialties such as Orthodontics & Pediatric dentistry
Operative and Chair Side Assisting – instrument care and use, charting and patient care & support
Coronal polishing and dental sealants
Dental Radiology – x-ray equipment, safety and digital/film processing
and more!
Get the administrative and clinical skills to excel in a professional dental career.
Get Real-World Experience
As a First Institute Dental Assisting student, you'll have the opportunity to complete a 120-hour (8-week) externship in a real dental office setting. At the externship, you'll work with real patients under the guidance of experienced dental professionals. This means you'll get the chance to apply the skills and knowledge you've acquired in the classroom and labs. You'll also gain valuable on-the-job experience before you graduate.
You'll feel confident and fully prepared to move into any dental assisting setting when you've had so much support and practical work experience during your training.
Flexible Schedules
Daytime class hours are 2 days a week (Mon/Wed or Tue/Thurs) from 8:30 AM to 4:30 PM and the night time schedule is 4 nights a week (Mon through Thurs) from 5:30 PM to 9:30 PM.
"Such a great school! Had the best teacher. I was beyond prepared when it came to my first job in the dental field. I'd recommend this school to anyone who is looking into dental assisting!"
– Kelsey Rae

Funding Your Education
Many students require financial assistance to achieve their academic goals. Because First Institute is accredited through ACCET, Financial Aid is available to those who qualify. An experienced First Institute Financial Aid Advisor will help determine your eligibility, explore the best options for you and support you every step of the way through the application process.
Also, our programs qualify for a variety of military training assistance options, including GI Bill, MyCAA, REAP, DEA. Check out our Military Education Benefits page to learn more.
The fun, online quiz takes 3-minutes to complete and you'll get a personalized report. Identify your strengths and social style plus the training and positions you're best suited for. Get Your Career Training Readiness score now.
Get the Support You Need to Launch a Successful Career
Dental Assisting training isn't about getting a certificate to hang on the wall – it's about training for a rewarding career you care about. First Institute is dedicated to supporting you throughout your career.
While First Institute cannot guarantee job placement, our Career Services Department maintains contact with prospective employers throughout Illinois, and advises them of talented students' abilities and availability. Career services can help you:
Create a cover letter and resume
Develop your interview skills
Assist you through the job search process
Is a Rewarding Career in Dental Assisting Right for You? Get More Info…
If you're interested in learning more about careers in Dental Assisting and exploring whether this is the right career path for you, fill out the form on this page to receive more information.
A helpful First Institute Admissions Representative would be happy to answer any questions you have and can help with everything from scheduling to financial aid.
For immediate questions, call 815-828-4336
Gainful Employment Information
*50 week program length when completed in normal time.